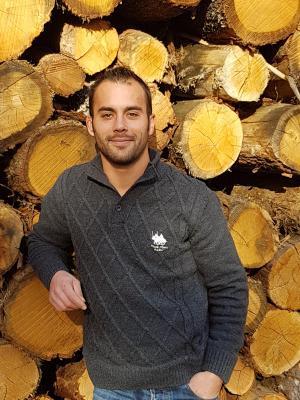 Yacine-Alexandre RYAD
FOREST MANAGER
France
Partner of Forêt Investissement
| | |
| --- | --- |
| Since February | Director of Forêt Solution |
| 2016 | Forest management for a forestry group |
| 2013 - 2016 | Sector manager for BNE (Bois Négoce Energie) |
| 2013 | Purchaser and procurement manager in a sawmill |
| 2011 - 2013 | Project manager in upstream forestry activities/coordinator (Auvergne Promobois) |
| 2011 | Advanced agricultural technical diploma (BTSA) in forest product sales |
| 2008–2010 | Advanced agricultural technical diploma (BTSA) (work-study course with the Office National des Forêts in Lozère) |
| 2008 | Scientific baccalaureate (high school diploma), major in biology |
Languages: French/English
FORESTRY BACKGROUND
Yacine-Alexandre Ryad has always been "instinctively drawn to the forest". The forest is a major feature in his childhood memories, from walks with the family to den-building in the woods.
This young forestry entrepreneur soon realized that you can't 'make it up as you go along' in this field.
Hence, after his high-school diploma he naturally went on to study forestry, continuing to do so until 2011.
His started work in 2011 with Auvergne Promobois (an organization providing support in the forest sector), where he stayed until 2013. There he worked as a project manager, working with the State and local authorities, a position that gave him an overview of the sector's needs.
He also supervised the development of the Auvergne Forestry Work Quality Charter, encompassing all forest operations.
In 2013, he expanded his skills set when he started to work as a wood purchaser for a sawmill in Corrèze, later becoming procurement manager.
From 2013 to 2016, he worked as sector manager at BNE (Bois Négoice Energie). He was in charge of forestry management, forest works and trade: buying and selling timber. There he worked on the question of treating sawmill products and of recycled wood, another market sector.

In 2016, he took charge of forestry management and purchasing for a forestry group.
Creation of Forêt Solution

In February 2017, he set up Forêt Solution, a company that provides an all-round forestry management service.
Yacine-Alexandre is environmentally-minded and well aware of the economy surrounding the wood/forest sector, having closely analyzed its requirements.
Many professionals in the business are coming to retirement age but Yacine-Alexandre is ready to take over!
At the same time, new needs are emerging, for example in the fuelwood sector and on the wood eco-construction market.
The forest inspires fascination and a passion but it requires genuine know-how.

Getting the best from your forest needs real expertise.
Yacine-Alexandre Ryad offers an all-round solution.
ABOUT FORÊT SOLUTION

Forêt Solution operates in two areas: forestry management and forestry investment.
Its clientele mainly comprises private individuals. Forêt Solution can manage private forests of every size across the Massif Central.

Forestry management expertise

Good forestry management involves a range of operations that Forêt Solution can take care of all year round.
GETTING THE BEST FROM WOOD for better sales Sell your timber with Forêt Solution and benefit from a reliable and extensive network of clients and buyers.
FORESTRY EXPERTISE is crucial when defining and analyzing the different aspects of your forest, from the environment to economics. Forêt Solution has the technical and human resources requried to carry out this kind of appraisal.
OPTIMIZED, ADAPTED FORESTRY MANAGEMENT which means treating each forest as 'unique'. The management and silvicultural approaches applied by Forêt Solution will always be personalized. And tailored to your requirements.
DRAFTING AND FOLLOW-UP OF SUSTAINABLE MANAGEMENT DOCUMENTS, applied in compliance with the regulations. When planning logging operations and other work, the sustainable management document is vital.
FORESTRY WORK is taken care off from start to finish: plantting, maintenance, formative and other pruning, mechanized or manual felling, mechanized hauling, and topping.
DEVELOPMENT OF YOUR FOREST , with the creation and maintenance of landing areas, logging roads, plot demarcation, can also be entrusted to Forêt Solution.
AID AND TAXATION Forêt Solution can help your with the paperwork required to apply for the aid you are entitled to as a forest owner.
Forest investment project

With its extensive forestry experience and access to a network of specialists, Forêt Solution can help you with your ambition to invest in the forest. Forêt Solution can also provide estimates, advice on your acquisition or sale, prospecting and insurance brokerage.
We handle the full chain of forestry operations.

"We cover every area of the forestry professions (from plantation to wood sales), so we can optimize forest management for our clients.
We are also specialized in the management of hunting properties and estates.
We are able to combine forest development with ideal hunting conditions. Profitability and recreational use can be combined!"

Forest sustainability

A concept to Forêt Solution: we analyze the forest's past so better foresee its future!
FORET SOLUTION therefore manages the forest for the long term, taking on-board the economical and financial characteristics of your property as well as its environmental aspects.