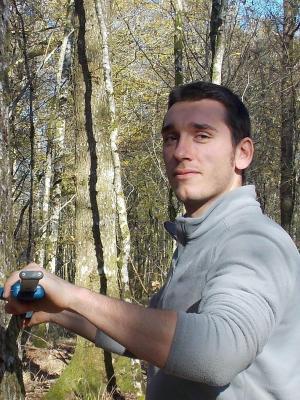 Xavier Roussey
FORESTRY CONSULTANT
France - Grand Est
Partner of Forêt Investissement
| | |
| --- | --- |
| Since 2017 | Forestry consultant for Forêt Investissement |
| Since 2013 | Independent forestry consultant |
| 2013 | Degree in management and marketing in the wood sector – Internship in a forestry cooperative - Vosges |
| 2012 | Advanced technical diploma in forestry management – Internship in a forestry cooperative (working on a forest massif development plan), Jura |
| 2010 | Vocational baccalaureate Forestry operations management – Internship in different businesses |
| 2007 to 2012 | Seasonal worker in a sawmill |
A territory stretching far beyond the Grand Est region
Originally from Jura, Xavier Roussey has been based in Les Vosges for the last four years. However, his field of action is much wider, stretching from the Bourgogne-Franche-Comté region to the Grand Est. He also regularly travels to Switzerland, Germany, Luxembourg and Belgium.
This forestry consultant has several years' experience in the wood sector, where he started out as a seasonal worker in a sawmill, then worked in various companies and forestry cooperatives in his area. Xavier has thus been working with companies in the wood sector for more than ten years. From logging operations and the related issues to the expectations of sawmill users, his comprehensive vision of the sector is just one of his many qualities.
He forged his entrepreneurial experience in forestry management and consulting alongside industrialists in the wood sector.
Environmental awareness
Well aware that natural resources play a crucial role in our economies, Xavier is convinced that the forest is 'one of the greatest natural resources on Earth'. The forests are under threat in certain parts of the world, but they are vital when it comes to storing carbon and as a raw material for all our economies.
Optimizing forest assets while adapting to the market
'The wood market is rather volatile as it is subject to supply and demand. First and foremost, the forester must have thorough knowledge of his production system – i.e. the forest – to optimize its capacity while adapting production to market requirements. In this context, as a forester myself, I have sought to develop and optimize the forest assets of my clients.'
As a consultant, Xavier also assists industrial firms in the wood sector with the management and diversification of their raw material supplies.
Specialized in logging operations and wood sales, Xavier sees things from the point of view of a forest manager and of a log buyer. Excellent knowledge of the unique qualities of wood means he is skilled in optimizing the products' value.