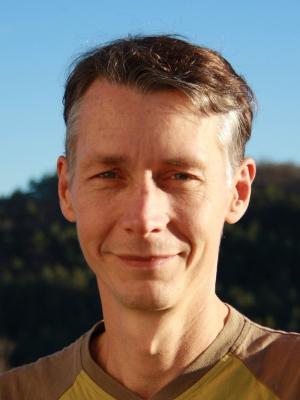 Gaëtan du Bus de Warnaffe
FORESTRY ENGINEER
France, Occitanie
Partner of Forêt Investissement
| | |
| --- | --- |
| Since 2006 | Runs Arbre et Bois Conseil |
| 2004-2006 | Teacher on the Advanced Technical Diploma (BTS) in Forestry Management at the CFA apprentice training center in Tarn |
| 2002-2004 | Post-doctoral position on a Marie Curie Individual Fellowship grant at the INRA research institute in Toulouse |
| 2003 | qualified as a university lecturer (population biology and ecology) |
| 1999-2002 | PhD at the University of Louvain-La-Neuve (Belgium). Faculty of Agronomic Sciences |
| 1990-1995 | Agronomic engineering course (Louvain), specialized in Water and Forests |
Languages: English/Dutch/German
From monitoring in the field to specialist studies

Gaëtan du Bus de Warnaffe, a freelance forestry engineer based in Occitanie, shares his extensive forestry expertise with many independent forest owners, mainly in the départements of Tarn, Aude and Ariège. He also visits other parts of France on on-off assignments.

Gaëtan worked as a planning specialist in the public forests of Ardenne, before embarking on a PhD in science, which led him to applied research with the INRA. He then became a forestry management trainer.

He now works as a forestry consultant and his experience combining research, vocational training and practice in the field let him take a holistic approach to the sometimes complex scientific and economic questions related to forestry management.
Knowledge to optimize forestry management
This senior engineer specializes in the technical and economic optimization of forestry management, taking into consideration landscape issues, soils and biological balances over the long term. He has also become specialized in organic fruit growing after setting up and managing a diversified organic orchard, covering 3 hectares and selling direct to the consumer.
Some career highlights
Gaëtan du Bus de Warnaffe has accomplished: 22 value and loss appraisals (in partnership with the CNEFAF experts), 33 'PSG' forestry management plan approvals, 48 forests managed on an ongoing basis and 117,000 m3 of wood sold, mainly standing timber (conifers, deciduous, lumber, fuel wood and for industry).
He is thus fully familiar with forestry and felling techniques and expert in monitoring the health and growth of forest stands.
He also carries out audits and forecasts for forest owners and can provide assistance and advice on forestry investments, law and taxation.
He carries out administrative procedures for forest owners and contributes to the management of forestry groups (invoicing, annual general meetings, VAT, etc.).
He has also been involved in project management for the natural regional parks and Aude council since 2013.
He has completed various feasibility studies for the wood-energy sector, arboretums and conservation orchards.

Finally, Gaëtan delivers short training courses for the owners of rural properties.
International publications (full list available on request):
Ten articles in international science journals: Annals of Forest Science, Forest
Ecology and Management, Biological Conservation, Ecography, Ecology and Society, etc.
Presentations at international science colloquiums: 9 papers (France,
Sweden, USA, etc.), 6 posters (Italy, Belgium, Slovenia, etc.).
Reviewer for Ecography, European Journal of Soil Biology + jury member for a thesis on the impact of
silviculture on soil fauna (University of Louvain, May 2005).
ABOUT ARBRE ET BOIS CONSEIL
Arbre et Bois Conseil, experimenting together with an economy that respects the forest and people.
A freelance operation
Arbre et Bois Conseil is a professional business founded in 2006 by Gaëtan du Bus de Warnaffe, after 12 years' working in forestry. It advises forest owners, analyzes forest massifs and manages more than 2,800 hectares of forest in Occitanie. A forestry engineer and doctor of science, Gaëtan has 22 years' experience. He is an accredited professional forest manager and a probationary member of Experts Forestiers de France (French forestry consultants' union).
From monitoring in the field to specialist studies, a broad array of skills
Gaëtan worked as a planning specialist in the public forests of Ardenne, before becoming a researcher in applied ecology in a university and with the INRA, then a trainer for the Advanced Technical Diploma in Forestry Management. He is now a forestry consultant with experience that combines research, vocational training and practice in the field, letting him take a holistic approach to the complex scientific and economic issues involved in forestry management.
Forest owners make a long-term investment and play a fundamental role in matters of rural development, climate, soil fertility and biodiversity. Investing capital and generating timber and income is possible with a fine, diversified forest that contributes to the local economy.
Reflecting the philosophy of the Pro Silva association, ABC applies a forestry management approach based on a mixed, uneven-aged stand wherever possible (continuous, diversified forest cover), a dynamic system that minimizes costs while conserving and improving the asset. This approach only allows clear felling when stands are in poor health or unsuited to the soil or local climate. Deciduous and mixed stands are respected, natural regeneration preferred and plantations are mixed.

A winning partnership
We meet forest owners and forge a relationship based on transparency and trust, taking into consideration each party's objectives. The diversity of the forests and of their owners always leads to new discoveries and stimulates creativity. Arbre et Bois Conseil helps forest owners to get to know, value and take care of their forest, for now and for the future.

Arbre et Bois Conseil helps forest owners to get to know, value and take care of their forest, for now and for the future!