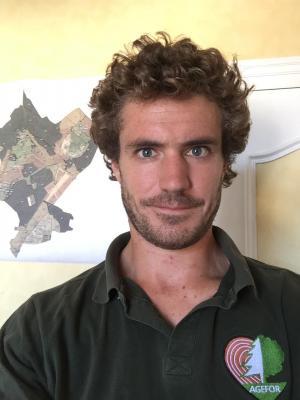 Denys De Soultrait
FORESTRY TECHNICIAN/CARTOGRAPHER
France - Auvergne Rhône-Alpes, Bourgogne Franche-Comté, Centre-Val-de-Loire
Forêt Investissement partner
| | |
| --- | --- |
| 2015 to present day | Independent forestry technician Managing forest massifs |
| Since 2015 | Member of the Massif Central AGEFOR |
| 2014 | Two-year Master's in 'Territorial dynamics and rural development' |
| 2011 | Vocational degree in 'Geographic Information Systems' – Université de La Rochelle |
| 2010 | Advanced technical diploma in Agriculture/Forestry Management in Meymac |
Languages: French/English/Spanish
A cartography specialist
A native of Allier and son of a forestry specialist, Denys de Soultrait has been immersed in the realm of the forest since childhood.
Denys is a forestry technician who works in an area stretching from Allier to Cher, and taking in Puy-de-Dôme, Saône-et-Loire and Nièvre. He rolls out numerous 'PSG' forest management plans, most notably in the oak forests in central France. He specializes in cartography, working on projects with outsourcer colleagues.
He founded his own business in 2015 and regularly works with members of the Massif Central AGEFOR forest managers' association. He also regularly works in the conifer massif of Livradois-Forez and the Sancy mountains. He nonetheless remains largely focused on the Allier département.
His background
In 2013, he worked as a trainee task officer for a project run by the Pays Marennes Oléron local observatory. He produced maps and statistics for the project.
In 2012, he was cartography officer for a study into forest fire protection equipment and access in Les Landes.
From 2008 to 2014, he was a forestry technical and trainee GIS technician in Guyane and in Allier. He has thus drafted numerous forest management plans (PSG) and created geographic databases for forestry operations supervision. Devising forest access plans and creating and marking out forest tracks rights-of-way are all part of Denys's skill set.
Immersed in the realm of the forest since childhood!